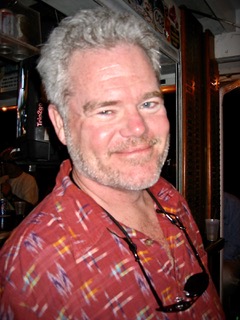 Tom Carey
Voiceover Artist/Singer/Guitarist/Songwriter
Tom Carey is a voiceover artist, singer, guitarist, songwriter, humorist and cartoonist.
Tom trained in voiceover at Acting Studio Chicago with respected industry pros David Leffel and Allison Latta and is available for commercial voiceover, narration, industrial and character work.
Tom's first CD, The Last Resort, got rave reviews ("It's a rare surprise when a bright songwriter like Tom Carey is right here under our noses. His imagery and drama could stand alongside John Hiatt's best work." From Mark Guarino, The Daily Herald) and sold over 10,000 copies. His second CD, SugarMoon, included the beautiful ballad Talking About Love which was featured in Corona Beer's national advertising throughout 2004 and featured Tom's voiceover as well as his singing.
At its peak, Tom Carey Band performed more than 100 shows a year at clubs, festivals and corporate events. Tom and his band opened shows for America, Bad Company, the Doobie Brothers, KC and the Sunshine Band, and the Charlie Daniels Band among many others. They headlined at venues such as the Chicago House Of Blues, the Hard Rock Cafe, Wrigley Field, the Taste Of Chicago and Jimmy Buffett's Margaritaville in Key West, Florida.
A lifelong Eagles fan, Tom formed his current band Heartache Tonight-A Tribute to the Eagles in 2007. This enormously successful project currently tours the Midwest playing 60 to 70 shows a year at festivals and performing arts centers to sell-out crowds.
As a writer and cartoonist, Tom has authored eight humor books with over 500,000 in print. His greatest hits include The Modern Guide To Sexual Etiquette (1987), The Marriage Dictionary (1993) and Teed Off! The Modern Guide to Golf (2009)
Tom Carey VO Demo:
---
Corona Commercial 2000